Robert Mills: Architect of a New Nation
Robert Mills (August 12, 1781–March 3, 1855) is often referred to as the first native-born professionally trained architect in America. His most recognizable project is the Washington Monument in Washington, D.C., although he designed many government buildings, hospitals, churches, and private residences.
The son of a Scottish tailor, Mills grew up in Charleston and took courses at what is now the College of Charleston. When he was around nineteen years old, Mills set off to the nation's new capital to study under James Hoban, architect of the White House. While in Washington, the young South Carolinian met Thomas Jefferson. Mills later wrote that Jefferson offered him access to the library at Monticello, which had an impressive collection of architectural books.
Around 1802, Mills went to work with Benjamin Henry Latrobe, a pioneer of the Greek Revival style in America. During the years that Mills worked with Latrobe, their main focus was the U.S. Capitol Building. In 1808, Mills set off on his own to design buildings in Philadelphia, Richmond, and Baltimore. At the age of forty, Mills returned to South Carolina as Acting Commissioner of Public Buildings. For the next nine years, he designed or rehabilitated courthouses and jails in twenty-one counties throughout the state. In 1822, Mills submitted plans for the two buildings that are considered his most important public buildings in the state: the South Carolina State Hospital and the Fireproof Building, or "County Records Building," as it was called.
Mills designed and completed many civic buildings and public works, including prisons, marine hospitals, churches, courthouses, canals, bridges, and monuments.
---
The Fireproof Building
"It is designed in the simple Greek Doric style, without any ornament, except that afforded by the porticoes which face each front." -Robert Mills
In December of 1821,  the South Carolina Legislature passed a resolution authorizing the Board of Public Works to spend $25,000 to erect "fire-proof buildings at Charleston." Mills was the Acting Commissioner of Public Buildings at the time. By the spring of 1822, Mills had already completed a working design for the building and had begun to accept bids from local contractors and craftsmen.
Mills was instructed to design a building to house the records of the county as well as offices for local officials. To facilitate public access, he designed the structure with eight entrances, each leading to a hallway. In turn, the hallways lead to a beautiful central stairway, thus allowing an individual to enter from any door and go directly to any office. The design also enhances the circulation of both air and light. As far as we know, this is the first of Mills's buildings to feature double hallways and a central staircase.
The building's fireproof features include foot-thick masonry walls, stone floors, metal window casings, and a copper roof. Mills stipulated that the building was to be surrounded by green space and wide roads. To create this firebreak, he petitioned the city to widen the alley to what is now Chalmers Street. His petition (below) is part of the South Carolina Historical Society's collection of Robert Mills papers.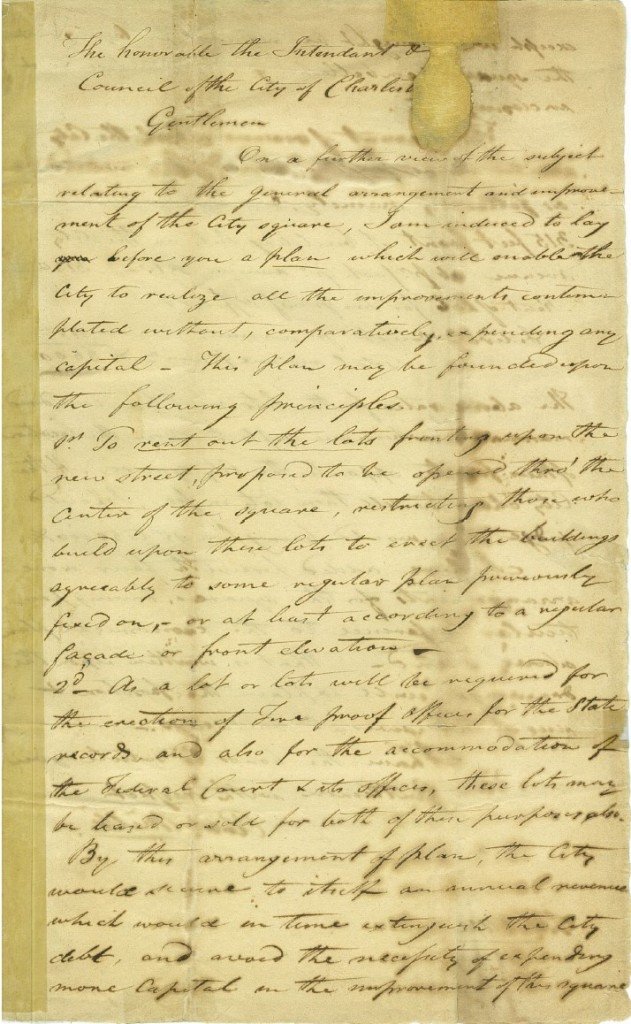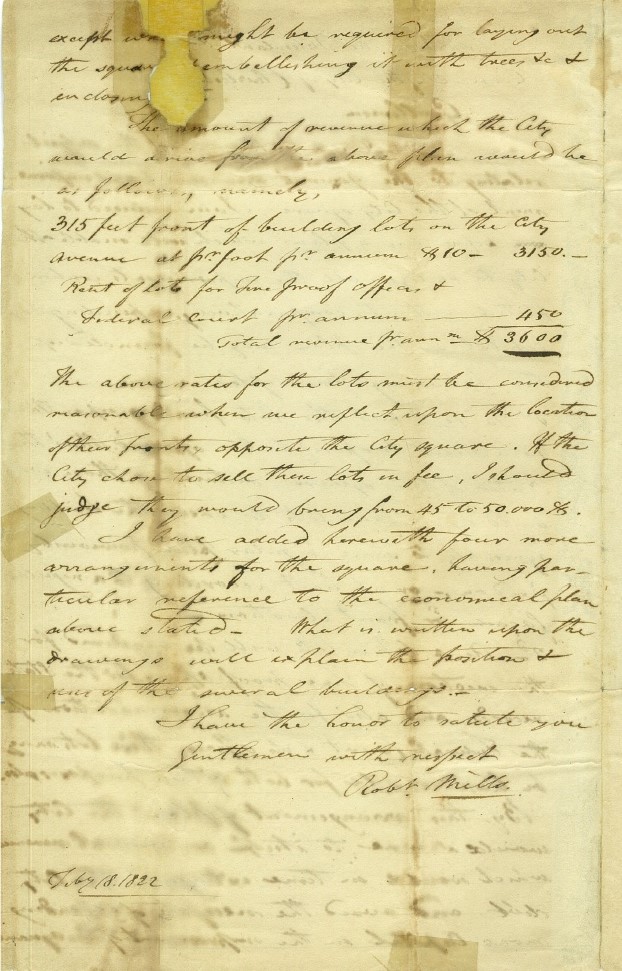 Mills hired Frederick Wesner, an architect-builder and contractor, who placed the cornerstone on the building on May 24, 1822. Col. John Gordon, a masonry contractor, brick manufacturer, and architect-builder, also worked on the construction of the building. According to historian Gene Waddell, Gordon furnished and laid 947,500 bricks for the construction of the Fireproof Building. The bricks for the building were probably made on Gordon's plantation, Moreland, on the Cooper River. His estate after his death in 1835 lists 147 slaves at Moreland, some of whom were skilled bricklayers. Local blacksmith John Johnson was responsible for the building's ironwork.
Between 1837–1838 the Horlbeck brothers, a local architect-builder firm, completed a series of repairs on the building. The firm consisted of John Horlbeck Jr. (1771–1846) and Henry Horlbeck (1776–1837), and succeeding members Henry (1800–1872), Daniel, Edward (1809–1893), and John Horlbeck (1817–1892). The image below is from their 1839 daybook and lists enslaved laborers owned by Henry Horlbeck.
---
Timeline of the Fireproof Building
1821 The South Carolina Legislature authorizes a fireproof office building for Charleston District.
1822–1826 Construction of a fireproof public records building in Charleston designed by Robert Mills.
1856–1858 South Carolina Governor R. F. W. Allston maintains an office in the Fireproof Building.
1860 The South Carolina Historical Society moves a portion of its collection to a room in the Fireproof Building. These holdings are lost during or just after the war, but most of the collection, stored by the College of Charleston, is preserved.
1868 The state transfers ownership of the building to the newly created Charleston County.
1882 The state authorizes Charleston County commissioners "to introduce gas and electric light, or either of them, into the Fire-proof Building."
1886-1887 Earthquake damages and repairs to the County Records Building (better known as the Fireproof Building). The curved exterior brownstone stairs are replaced with straight granite steps.
1930 Building is repainted white.
1942 The South Carolina Historical Society moves part of its collections to the Fireproof Building.
1943 Charleston County leases two floors of the Fireproof Building to the South Carolina Historical Society. Some interior renovations are made to accommodate the collections of the SCHS.
1960 Exterior renovations, designed by noted architect Albert Simons, including repair and waterproofing of the exterior, roof repairs, and replacement of roof drainage. The building's color is changed to match original color of the exterior stone.
1969 Last of the county offices (Coroner) moves out of the building.
1971–1973 Renovations designed by Albert Simons, including exterior repairs and installation of an air conditioning system, humidity controls, and new wiring.
1973 The Fireproof Building is designated as a National Historic Landmark.
1980 Charleston County conveys ownership of the Fireproof Building to the South Carolina Historical Society.
1984 Exterior refurbishing, including a new copper roof and replacement of the parapet.
1991 Installation of a new climate control system, roof repairs, and window and door refurbishing.
---
Other Structures by Mills
Washington Monument
South Carolina State Hospital Columbia, SC
Kershaw County Courthouse Camden, SC
Circular Church Charleston, SC
Monumental Church Richmond, VA c. 1814
Washington Monument Baltimore, MD c. 1815–1829
Bethesda Presbyterian Camden, SC c. 1822
First Baptist Church Charleston, SC c. 1822
Ainsley Hall House Columbia, SC c. 1823
Fairfield County Courthouse Winnsboro, SC c. 1823
Lancaster County Jail Lancaster, SC c. 1823
Union County Jail Union, SC c. 1823
Williamsburg County Courthouse Kingstree, SC c. 1823
Georgetown County Courthouse Georgetown, SC c. 1824
Old Horry County Courthouse Conway, SC c. 1825
Lancaster County Courthouse Lancaster, SC c. 1828
Marine Hospital Charleston, SC c. 1834
United States Custom House New Bedford, MA c.1834
Old Patent Office Building Washington, D.C. c. 1836–67
General Post Office Washington, D.C. c. 1842
Treasury Building (east wing and central) Washington, D.C. c.1842
---
 Resources
Robert Mills Lesson Plan: Bring the South Carolina Historical Society's collection to your classroom! This downloadable lesson plan features primary sources and an activity relating to Robert Mills and the antebellum period. Recommended for 8th grade and up.
"Director's Notes: Connecting with the Past" by Dr. Faye Jensen. Carologue Summer 2013.
"The Fireproof Building: New Home of the South Carolina Historical Society" by Helen G. McCormack. The South Carolina Historical and Genealogical Magazine. Vol. 44, No. 4 (Oct., 1943), pp. 205-211.
"Robert Mills's Fireproof Building" by Gene Waddell. The South Carolina Historical Magazine. Vol. 80, No. 2 (Apr., 1979), pp. 105-135.
Additionally, the SCHS holds within its collections a number of materials related to Robert Mills and South Carolina architecture. Here is a sampling:
Robert Mills papers: This collection includes letters, drawings, and project papers of Robert Mills.
Gene Waddell papers: Gene Waddell is an architectural historian and former director of the South Carolina Historical Society. Included in his papers are notes relating to the history and preservation of structures designed by Robert Mills.
Horlbeck Brothers papers: The Horlbeck brothers were builders and architects in the Charleston vicinity. Their daybooks include listings of work completed, sketches and mathematical figures, and information on free and enslaved laborers. The firm did repair work on the Fireproof Building in the 1830s.
Albert Simons papers: Architect Albert Simons was among the pioneers in Charleston's preservation and restoration movement and was a major influence in the American preservation movement. He established the architectural firm of Simons & Lapham and was a lecturer on fine arts and a professor of engineering at the College of Charleston. His firm conducted work on the Fireproof Building in the 1960s and 1970s.