Carologue Resources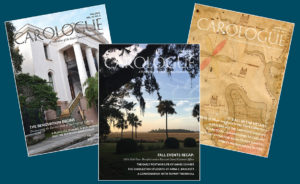 Index 
Carologue, our quarterly general-interest magazine, contains articles on a wide range of subjects, people, and events relating to South Carolina's history. Issues from 1985 to the present are available in the SCHS/College of Charleston Special Collections reading room; to access our most recently updated index, click here.
Article Collections
Here, you will find selections of Carologue articles by theme:
A selection of fully edited documents from the SCHS's collections of Pinckney Family Papers is now available through The Papers of the Revolutionary Era Pinckney Statesmen Digital Edition, a publication of the University of Virginia Press's Rotunda digital imprint. Accessible online in the SCHS/College of Charleston Special Collections reading room, this digital resource collects, for the first time, the papers of three of the most notable Pinckneys: Charles Cotesworth Pinckney (1746–1825), his brother Thomas Pinckney (1750–1828), and their cousin Charles Pinckney (1757–1824). For further study on these distinguished statesmen, we have made available several related Carologue articles.
From historically black colleges and universities (HBCUs) such as South Carolina State University to the hundreds of Rosenwald Schools constructed across the state in the early twentieth century, African American educational institutions and educators have helped shape South Carolina in significant ways. We have made available a selection of Carologue articles covering various aspects of the history of African American education in South Carolina.
Authored by Patricia Kruger, this four-part series is aimed at introducing SCHS members with an interest in family history to genealogical research.