Donating Archival Materials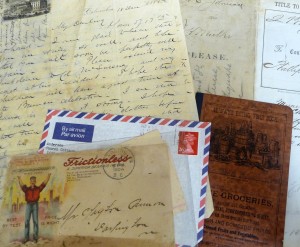 The obligation of the South Carolina Historical Society to collect evidence of the past is never ending, and a successful accessions program depends on you! The society provides a permanent home to materials from all over the state, from all walks of life. The objects in the SCHS collections include, but are not limited to, personal and professional papers and correspondence, business records, journals, genealogical records, rare and/or first-edition books, pamphlets, photographs, prints, maps, architectural drawings, and other unpublished writings.
Family letters and photographs, business records, church registers, and club minutes may seem like mundane remnants of everyday life, but they are the historical treasures of the future. Such documents will one day provide valuable insight into the lives of South Carolinians.
What fate awaits the old papers and photographs in your attic, closet, or basement? The potential for damage is great. Temperature, humidity, and direct light can damage papers and photographs. Most envelopes and cardboard boxes contain acids that eventually discolor and damage their contents. Paper clips, staples, and other metal fasteners develop rust and stain documents.
Our collections are housed in acid-free archival storage and kept in a secure, climate-controlled environment. People who donate the records of their family business or organization to us take comfort in knowing that their great-great-grandchildren will find their papers well-preserved and easily accessible.
Will your papers be preserved? We invite you to join the South Carolina Historical Society in our mission to collect and preserve the history of our state. Without your efforts, our history goes unwritten.
If you would like to make an archival donation, please contact a member of our staff via phone (843) 723-3225 or e-mail:
Donation forms:
Please review the forms below if you are interested in transferring ownership of an object you currently possess to the South Carolina Historical Society.
Deed of Gift- Manuscripts and Photographs
Deed of Gift- Published Materials