About Us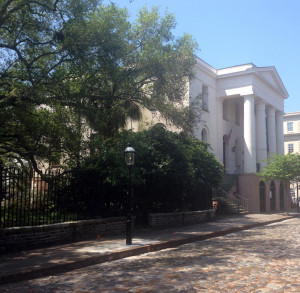 In 1855, a group of South Carolina's most distinguished citizens came together to found the South Carolina Historical Society with the goal of preserving our state's rich historical legacy for future generations. Today, the SCHS is the state's oldest and largest private repository of books, letters, journals, maps, drawings, and photographs about South Carolina history. Our mission is "to expand, preserve, and make accessible our invaluable collection, and to encourage interest and pride in the rich history of our state." The SCHS holdings are vast and grow constantly with the addition of materials from South Carolina's three-hundred-year history. The SCHS is a private, non-profit organization depending entirely on the generosity of its members to preserve and extend awareness of South Carolina history. We receive no local, state, or federal funding for our operations.
About the Fireproof Building
The South Carolina Historical Society is housed in the historic Fireproof Building, located at 100 Meeting Street in Charleston, South Carolina. Native South Carolinian Robert Mills was the first professionally trained architect born in America, federal architect under President Andrew Jackson, and designer of many important buildings in Washington, D.C., including the Washington Monument. Mills designed the Fireproof Building in 1822 as a state office building with secure storage for local public records; it is the first fireproof structure in the nation built specifically to protect documents. The building is in the Palladian style with Doric porticoes facing north and south. Inside is a three-story, oval stairhall lit by a cupola with cantilevered stone stairs. The Fireproof Building was named a National Historic Landmark in 1973. Major renovations to the interior and exterior of the structure were completed in 2002.
About Charleston
English settlers founded the city of Charleston in 1670 at Albemarle Point on the western bank of the Ashley River. Originally named Charles Town in honor of His Majesty, Charles II, of England, the city was relocated to its present site at the confluence of the Ashley and Cooper Rivers in 1680. Charleston has endured five major fires, a devastating earthquake, numerous hurricanes, and two national wars. During both the Revolutionary War and Civil War, enemy armies occupied Charleston, and the first shots of the Civil War were fired at Ft. Sumter in Charleston Harbor. With many well-preserved structures from the eighteenth and nineteenth centuries, the cityscape of modern Charleston is one of the most historic in America.