Winter Lecture Series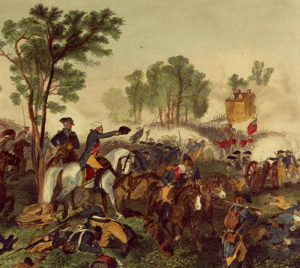 "Crises, Conflicts, and Triumphs"
January 24 – March 7 at 6:00 p.m.
First Baptist Church (48 Meeting Street, Charleston, SC)
Now in its tenth year, this six-week series features prominent historians discussing topics that range from the sensory history of the Civil War to an unlikely hero of the civil rights movement. Purchase tickets here!
The lectures are held on Tuesday evenings, January 24 through March 7, from 6-7 p.m. (no lecture on Feb. 14) at First Baptist Church, 48 Meeting Street in downtown Charleston. The lecture season pass is $75 for members and $90 for non-members. Individual tickets can be purchased at the door for $20 (cash or check only, please). Click here for a downloadable flyer.
Jan. 24: Dr. Nicholas Butler, "Arrah of the Cartwright: African Fidelity in the War of Jenkins' Ear"
Jan. 31: Dr. Courtney Tollison Hartness, "Over Here, Over There: The Centennial of the Great War"
Feb. 7: Dr. Susan Millar Williams, "A Devil and a Good Woman, Too: The Lives of Julia Peterkin"
Feb. 14: off
Feb. 21: Leigh Moring, "Freeing Charleston: Nathanael Greene in South Carolina"
In December 1780, former Quaker turned general Nathanael Greene took command of the entire Southern Department. Greene faced the British in several key battles in South Carolina in 1781 and ultimately was able to rid the state of the British and free Charleston in 1782. Join author of "Nathanael Greene in South Carolina: Hero of the American Revolution," Leigh Moring, as she tells the forgotten story of Greene and the liberation of the Lowcountry at the end of the American Revolution.
Feb. 28: Dr. Mark Smith, "The Smell of Battle, the Taste of Siege"
Relying on firsthand accounts from the Civil War, Dr. Mark Smith focuses on specific senses, offering a wholly new perspective. Often argued to be the first "total war", the Civil War overwhelmed the senses because of its unprecedented nature and scope, rendering sight less reliable and, Smith shows, forcefully engaging the non-visual senses.
March 7: Judge Richard Gergel, "The Life and Times of Waties Waring"
In 1952 Judge Waties Waring denounced segregation as an "evil that must be eradicated" in the school segregation case Briggs v. Elliott. U.S. District Judge Richard Gergel, who presides in the same courtroom where Waring once sat, has done comprehensive research into Waring's life and career.