Publications
The South Carolina Historical Magazine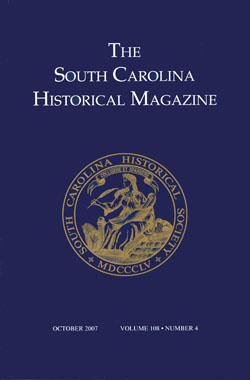 In 1856, the society began to publish material on South Carolina history, issuing three volumes of its collections prior to the Civil War. 1900 marked the first publication of the quarterly South Carolina Historical Magazine. Over a century later, this journal remains the only scholarly periodical entirely devoted to the wide range of South Carolina history. Throughout its history, the Magazine has featured the finest interpretive articles, edited original documents, book reviews, manuscript reprints from the society and other institutional collections, and descriptions of recent society acquisitions. The Magazine is the principal source of South Carolina history for more than 4,000 individuals, as well as libraries throughout the United States and around the world. Such eminent twentieth-century South Carolina historians as Alexander S. Salley Jr., Anne King Gregorie, and George C. Rogers Jr. have served as editors of the Magazine.
For more information about the South Carolina Historical Magazine, please contact Matthew Lockhart.
Carologue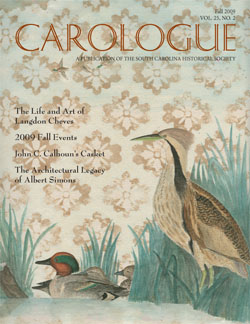 In 1985, the society launched Carologue, our quarterly general-interest magazine. This full-color, 32-page periodical offers articles, illustrations, and photographs about the state's history, genealogy, and preservation, as well as the personalities who have and continue to make South Carolina the history-rich place it is today. Carologue also provides society members with news and information about upcoming events.
For more information about Carologue, please contact Matthew Lockhart.