Research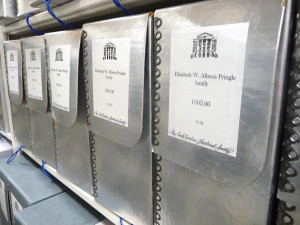 Search our ONLINE CATALOG
The nationally renowned collections at the South Carolina Historical Society contain records of the lives, passions, struggles, and viewpoints of South Carolinians from every era–from pre-colonization to the present. Our archives include the writings of governors, soldiers, and poets; the research of scholars; the diaries of women and travelers; and the records of plantations, businesses, and churches. There are maps and plats, architectural drawings and genealogical charts, over thirty thousand photographs and prints, and fifty-thousand books, pamphlets, and serials. The South Carolina Historical Society also has one of the nation's largest collections of Confederate imprints.
These vast holdings make the South Carolina Historical Society the world's most important private repository of South Carolina history. Each year, hundreds of researchers–including genealogists, authors, lawyers, scholars, and filmmakers–come from around the nation and world to use our collection. Our archivists and reference specialists strive to help make the visit of each researcher efficient and productive and are always willing to explore new territory in order to help researchers draw conclusions.
The South Carolina Historical Society's collections are open Monday through Friday from 9:00 a.m. to 5:00 p.m. at our new location on the third floor of the College of Charleston's Addlestone Library. Please be sure to check the "Visit Us" page before you visit for detailed information on hours and access to locations.
Please note: The South Carolina Historical Society does not have the staff to conduct research for the society's many users, but staff persons are available to assist researchers in locating the resources they need. Since the reference desk in our reading room is always staffed during library hours, the greatest degree of assistance is available to those who are able to visit the society in person. While the reference staff must stop short of actually conducting research for visitors, their familiarity with the society's resources and with various research strategies can be extremely helpful.
Also, because of small staff size, replies to correspondence are generally limited to information regarding the society's holdings and advice as to how users may gain access to the information they need. For those with extensive research needs who are not able to visit the society, the SCHS does offer research services. For those who desire only a specific piece of information for which a citation is readily available (e.g., bibliographic citation, or exact date, name and/or location relating to query), a limited search will be conducted upon request.